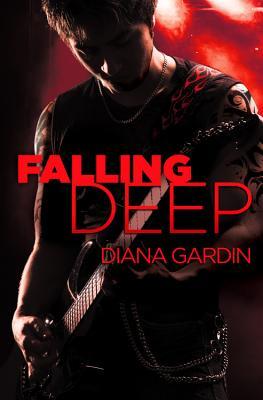 Title: FALLING DEEP
Author: Diana Gardin
Age: New Adult
Genre: Contemporary Romance
Publisher: Grand Central/Forever Yours
Scheduled to release: April 7, 2015
BLURB:
Reed Hopewell is a lot of things to a lot of people . . .
To his parents, he's the son who needs to get serious. To his friends, he's the player they all want to be. And to his fans, he's the hottest rocker in Charleston. But never has Reed been anyone's hero-until the night he finds Hope.
Hope Dawson can count the number of men she trusts on one hand. Definitely not the guys she goes out with or the stepfather who treats her like property. She'd be out of his house tomorrow if not for the need to protect her little sister. But when things at home go from bad to worse, Hope has to act fast-and Reed is the only person she can turn to . . .
Review by: Leeann
This is a book that has you shaking your head wondering on what planet do these parents honestly think their behaviour & treatment of their kids is ok?
Hope is 21 years old & working at her Step-fathers escort business. Not because she wants to, but because if she doesn't he & her mother will kick her out of the house & she will be forced to leave behind her 13 year old sister who is physically abused by their mother.
But Hope has a plan, she will keep working until she has enough money that she can hire a good lawyer & apply for custody of her sister.
Things are going along at a slow but steady pace until Hope meets Reed.
Reed saves Hope from being raped in a dark alley one night by one of her Step-fathers clients & both of their lives take a huge turn.
Reed
falls
in love with Hope quickly but she can't risk her plan being destroyed by her
falling
in love with Reed. Her Step-fathers one big rule is the girls working for him are not allowed boyfriends. If he found out she had one Hope would lose her job & her sister, so she is very hot & cold with Reed at times.
Reed has a bit of the Poor Little Rich Boy syndrome. He doesn't trust women because his mother cheated on his father. He allows this to rule his life when it comes to women & will not get close to any of them. He chooses instead to have the attitude at the beginning of the story of poor me, mommy cheated on daddy & ruined my life.
However, once everything is out in the open he steps up for Hope & her sister & redeems himself big time. By the end of the book, I would have married him!!
This is a good quick beach read.
3.5 Stars
About the author:
Diana is the author of the YA novel COLORBLIND, and the NA Contemporary Romance novels OUT OF THE ASHES, SETTLING ASHES, AND WANTING FOREVER. All are available for purchase now. Diana is a Virginia girl living In South Carolina, and her beloved home in the South is the backdrop for all of her novels. She adores writing about Southern girls and boys finding their way in and out of love. She's married to the love of her life, and they have two fabulous/crazy children under the age of five.