Publication Date: May 16, 2015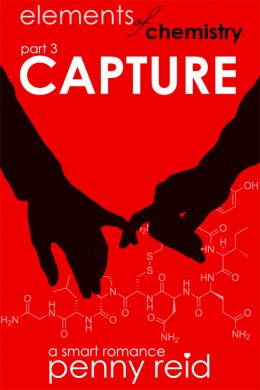 Elements of Chemistry: CAPTURE is the third part in a three part series; it is 70k words. Part 1 (ATTRACTION) will be released April 9, 2015. Part 2 (HEAT) will be released April 30, 2015. Part 3 (CAPTURE) will be released May 16, 2015.
Review by: Gina
It started with hiding in the cupboard and ending with hiding in the closet...it was very fitting.
Capture is the third book in the series and while it wasn't my favorite there was still humor, drama, and angst to keep me entertained. I felt Capture did a really good job wrapping up the story of Kaitlyn and Martin. My favorite thing was watching these two characters grow through out the books. Kaitlyn started out as this quiet, shy, awkward, no she is still awkward, girl and turn into the amazing women who took a chance and followed her dreams. Martin was this cocky, self assured, ladies man who wanted revenge but by the end he decided he needed to find his happiness and revenge wasn't it.
I high recommend this series, but you have to start with the first two books.
About Penny Reid
SEX! It all started with sex, between my parents. Personally I don't like thinking about it, but whatever works for you is a-ok with me. No judgment. The sex happened in California and much of my life also occurred in that state until I moved from the land of nuts (almonds), wine, silicon… boobs, and heavy traffic to the southeast US. Like most writers I like to write, but let's get back to sex. Eventually I married and gave birth to 2 small people-children (boy-6, girl-4 as of this writing). By day I'm a biomedical researcher with focus on rare diseases. By night I'm a knitter, sewer, lino block carver, fabric printer, soap maker, and general crafter. By the wee hours of the morning or when I'm intoxicated I love to listen to the voices in my head and let them tell me stories. I hope you enjoy their stories.