Annabella Baker has always lived a normal life with a loving family. She had dreams of going to college and becoming a dancer. But the summer before her senior year, the life she knew is ripped away from her, and she's left wondering if it ever really existed in the first place.
Six months later, Annabella is living an entirely different life. The loving family she had no longer exists, and the girl who dreamed of being a dancer can barely walk. She spends most of her time getting into trouble and living in denial over what happened. One night she takes things one step too far and is left dealing with the consequences.
Put under house arrest, Annabella can no longer run away from her problems. With the help of her cute, sweet neighbor, Luca Benton, she rediscovers the girl she used to be, and finally learns the truth about what really happened that horrible day that changed her life forever.

PURCHASE HERE:
AMAZON | B&N | iTUNES
"I decided that I needed to stop watching life and actually live it"…total these for this book!!!

Annabella

watching her life from

the

outside and was too afraid to take control back. Suffering in

the

pain that was propelled at her, she felt it her duty to endure all

of

the

weight that it bestowed. It wasn't until a little faith, in

the

form

of

a geeky yet completely adorable next door neighbor, stepped in and showed her that stepping back into herself would be

the

most freeing thing she could do. This book offered love, loss, depth

of

self, redemption and forgiveness. Emotion created to make me feel and see

Annabella

for

the

beautifully complicated character that she was and watch her flourish into

the

beautiful young woman she was meant to be.
When gripping a reality so hard to take,

Annabella

is thrust into a world she had no idea existed and all

the

control she thought she has is ripped away. After a tragic accident claims

the

only life she's known, choices need to be made, good or bad,

Annabella

struggles to survive in

the

new world created for her. Enter

the

hunky yet completely nerdy new neighbor Luca and all

of

the

control she is trying desperately to grab onto is thrown out

the

window. "Besides, there's more to you than just your looks, even if you don't want me to think so". He see her…really sees beyond

the

front she putting up, which shocks her and makes her more curious than ever. They are amazingly adorable and watching them both heal each other is

the

highlight

of

the

book.
This was such a magnificent book that I blew through it in one sitting! It drew me in and captured my attention and heart from

the

very start. These two beautifully broken teens were dynamic and brilliant as they fought through more than they should have at their age, to begin to live life to its fullest! I really enjoyed this book and all

the

feels that I received from it. Total recommend and 5 star read all

the

way!!
ABOUT THE AUTHOR: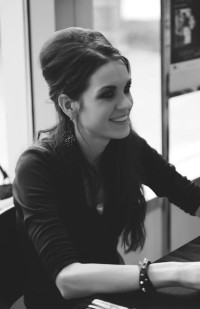 Jessica Sorensen is a New York Times and USA Today bestselling author from the snowy mountains of Wyoming. When she's not writing, she spends her time reading and hanging out with her family.
CONNECT WITH
Jessica
: