Blurb:
One night to set each other free.
Almost dying from an undiagnosed heart condition means every second of your life is a precious gift to be guarded.
Lena Pettitt was born a miracle.
And her parents never let her forget it.
Even if that daily reminder kept her from experiencing the one thing they were trying to protect most--her life.
Gabriel Martinez's heart has been ripped out.
His pride has been stomped on.
Oh, and he now has an arrest record that's caused an even bigger rift between him and his DA mother. All for a love that wasn't really true.
Now he's exiled to his grandmother's, working on his late grandpa's old Corvair when a shivering girl knocks on the garage door. Lena, left alone for the first time ever, has locked herself out of her house--in the snow. Gabe knows he could help this girl get back inside her house--but that may mean missing the next train to Boston to pick up the part he's spent eight weeks tracking down. She can wait for him at his grandmother's or…
A few hours, an aluminum valve cover, and some strong coffee later, neither Gabe or Lena can feign disappointment when they race to the station and arrive just as the last train home from Boston is pulling out.
As jaded as he is, Gabe can't deny the fact that he's excited to spend the night exploring a city he knows nearly every corner of, with a girl who sees magic in the simplest things.
Lena has been waiting for her tiny world to crack open her entire life. Now that it's finally happened, she finds the only thing she can focus on is the unexpected tour guide who opens her eyes to possibilities she never imagined.
All they have is this one night, together, under the bright moon in a city full of hidden beauty.
It's one night that will change how they see the world and the paths their hearts will take forever.
Lena Pettitt was born with a heart defect and after many surgeries and fears that she would not survive, she beat the odds and had grown up to be a fairly healthy teenager…her parents miracle.

Her parents have sheltered her from most of the things a normal teenager does- she is homeschooled, she has never been out with a boy and the only friend she seems to have is her sister her looks at her more as burden. What is the point of being given a second chance at life if you don't have the opportunity to actually live?
Gabriel Matinez has made one bad decision after another. He has a crazy girlfriend and in trying to protect her, he gets thrown in jail which can tarnish his District Attorney mother's image.

Instead of showing support to Gabe, she ships him off to his Grandmother's house and basically banishes him from the city.

Little did Gabe know, that his mother was giving him the greatest thing in his life.
When Lena convinces her sister to leave her home alone when her their parents are away, the first time she has ever been left home alone, Lena gets locked out in snow in shorts and no shoes. She walks through her neighborhood and finds an open garage. A chance encounter with Gabe, turns into one life changing night.
Finally out of her bubble, Lena and Gabe go on a trip to the city- their journey quickly turns into more than just picking up a car part. They embark on an adventure filled with mean moms, lots of coffee with creamer and even some pie. Gabe gives Lena the chance to do something she has neve done- live. They experience Lena's firsts together and they experience a last for Gabe. How much a person's life can chance from one night is amazing.
Steph Campbell did a wonderful job portraying these two somewhat broken yet strong characters. Their hopes, their fears, their feelings about their families and then of each other.
This was not a book about the possibility of a girl dying-this is a book about living. About how the most insignificant thing like putting surgar in your coffee or hopping on a train can be taken for granted. This is a book about hope and coming in your own.
I really just LOVED this story so much. The characters and their adventure was so heartwarming and so real.

I really felt like I was with them experiencing everything that they were.
One of the things I loved so much about the book was the epilogue. It was the best epilogue I have ever read- short and sweet and so perfect for these two character.
I highly recommend this book for those who want the fuzzy feeling that only young love can give you! I give this 5 heart squeezing stars.
(1)
Kindle Fire
and ebooks: Grounding Quinn,
Delicate,
Beautiful Things Never Last, and Even The Moon Has Scars
a Rafflecopter giveaway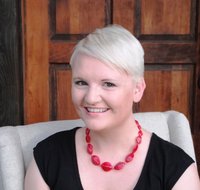 Steph Campbell grew up in Southern California, but now lives in the hot, humid south. She has one husband, four children and a serious nail polish obsession. When she's not writing or taking care of her brood, she's reading or scouring travel sites, always ready for life's next adventure.
facebook:
https://www.facebook.com/authorstephcampbell
blog: stephcampbell.blogspot.com
twitter: @stephcampbell_
instagram:
_steph_campbell